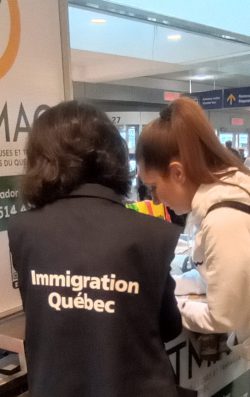 On Monday October 9, the Jesuit Refugee Service (JRS) team went to the airport to welcome a Syrian refugee. While there was great joy for the refugee's family, who were also present, there was concern on everyone's faces.
Other members of the family, including the mother, are still waiting for their visas to come to Canada. To date, it is impossible to know when the family will be reunited, as the actual processing times are unknown. A situation confirmed by Hugo Ducharme, head of the sponsorship program at JRS.
"It can take years from the time a refugee's file is accepted by MIFI to the time the Canadian government officially grants them protection and, at the same time, a travel visa".
HUGO DUCHARME
In mid-August of this year, it was with some relief that JRS received from the Ministère de l'Immigration, de la Francisation et de l'Intégration (MIFI) all the commitment acceptances for the 17 refugee files submitted in 2022. After more than a year of waiting, these files will be finalized and sent to the federal government. Furthermore, on September 1, 2023, the sponsorship manager was relieved to learn that the 19 files submitted to MIFI had successfully passed the draw stage.
This good news symbolizes the hard work the team puts in daily, but it also highlights a major problem: the lengthening processing times for files due to the two levels of government (provincial and federal).
This situation adds enormous stress to refugees living in precarious conditions, and to family members already settled in Canada who are not kept informed by the government of the progress of procedures.