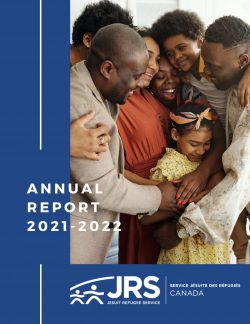 Jesuit Refugee Services is pleased to present its 2021-2022 Annual Report. Over the past year, we have accompanied and welcomed over 40 people to Canada through our sponsorship program. We are proud that we were able to help all these people get to safety, but we can't help but think of the other 150 families who are still on our waiting lists. Please know that we have not forgotten you. To date worldwide there are more than 100 million people who are refugees. This number will increase dramatically due to climate change, the conflicts, and the social and political crises that drive people to flee every day. We must redouble our efforts to help all those in need.
For our part, and as part of our mission, we undertook to raise awareness of the plight of refugees and asylum seekers by travelling across Canada and the United States. We conducted awareness workshops using our simulation exercise entitled "A Journey into Exile". Over 500 people were reached through our interactive online and face-to-face activities. Next year, we are confident that we will be able to reach more people with the new version of our simulation exercise and the guidebook that is being developed. For the moment, we are trying to accompany as best we can the refugees we have welcomed in Canada. In addition to spiritual accompaniment, we visit families who have recently arrived in Canada to ensure their successful integration. Each of our visits allows us to discover rich cultures and to measure the resilience of the refugees. We are particularly honoured by the trust of these men and women who share their stories, their trials, and their hopes with us. We thank them warmly.
We also thank our donors, interns, volunteers, and staff who help improve the lives of refugees.
Enjoy reading!