The Portait of this Month : Ramish, an Extraordinary Volunteer at JRS
22 September 2023
|

SJR Canada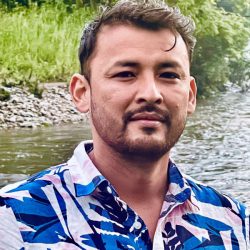 Originally from Afghanistan, Ramish is a 33-year-old married father of three. He came to Canada through the JRS sponsorship program over five years ago. In his home country, Ramish studied economics and agriculture. Within a week of arriving in Canada, he found work in a lumber factory. However, he soon encountered language difficulties due to his lack of knowledge of French.
"I felt lost and realized that even though I spoke English, I couldn't interact with some people. It was frustrating".
For over a year, Ramish took French classes. Today, he is an excellent polyglot, speaking English, Dari, Pashto (Afghan languages) and Urdu (a language spoken in India) in addition to French. His linguistic wealth also allows him to help many immigrant families in need.
Despite his busy schedule and family responsibilities, Ramish decided to volunteer at JRS. Along with team members, he visits refugees and serves as an interpreter to help newcomers.
Before being with JRS, I used to volunteer for other organizations and for people who needed help. I still enjoy helping people.
In his journey to integrate into Canada, Ramish says he has never felt alone.
"The people here are very welcoming. We are helped and supported by the community and by organizations like JRS, and that is great".
Like him, many refugees come to Canada and become successful. They are proof that the sponsorship program saves lives and that over time they become valuable contributors to society.