The #StatusForAll Campaign Continues, Write to the Minister of Immigration!
22 September 2023
|

JRS Canada
To end inequality in Canada, let's contribute to the #StatusForAll campaign!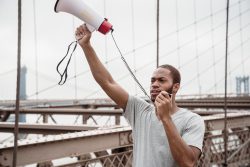 Without status or with precarious status in Canada, a person may have difficulty finding a decent job, accessing quality health care, finding housing or even getting an education. According to the Universal Declaration of Human Rights, we are all equal and have the right to a dignified life. In the current Canadian context, not allowing a certain segment of the population to obtain permanent residence limits this right to a dignified life. Some of these people are then subjected to forms of abuse and exploitation. For all these reasons, the Jesuit Refugee Service hopes that the regularization program proposed by the Trudeau government in 2021 will be extended to all. In doing so, temporary foreign workers, international students and non-status persons will be able to contribute fully to the social and economic life of Canada and flourish. As a community of faith, we therefore advocate for greater equality and humanism for foreigners. Please join us in writing a letter to Immigration Minister  to ensure that this plea is heard.