COVID-19: Refugee Relief Campaign
25 January 2022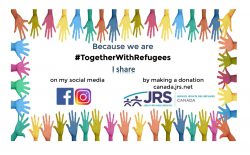 During this difficult time, refugees need our support, especially those who have arrived in recent months.  For many, the settlement period is far from over: the majority of those who had found work are now unemployed and without income, waiting to find out if government assistance will be available to them.  And it's no easier for their sponsors.
#TogetherWithRefugees is a message of solidarity for these people.  It is also a call for generosity: despite the difficult times we are all going through, we are making a gesture of sharing for those who are currently in a very precarious situation.  The money raised will help support these people and families so that they can get through the current period.
Two ways to show your solidarity:
1- Publish or share the image of this campaign on your favorite social networks.  If you can, share this link:
https://canada.jrs.net/en/news/covid-19-refugee-relief-campaign/
2- Make an online donation:  DONATE ONLINE
https://crmjrs.jesuites.ca/en/civicrm/contribute/transact?reset=1&id=1
THANK YOU!
JESUIT REFUGEE SERVICE – Canada